JASMINE'S SPECIALTY RICE: THE HEALTHIER, TASTIER CHOICE!
Jasmine's range of basmathi are highly sought by food connoiseurs for their taste and special features such as extra long lengths, fluffiness and aroma. These unique rice products are imported from basmathi's place of origin in Punjab, India and are premium in quality.  The planting fields located at the foothills and plains below the Himalayas provide the perfect place for the world's renowned basmathi rice. Research found that the cool, clean waters of the Himalayas and the high mineral content of the soil in the region are the reasons for such a distinguished crop. Basmathi rice has a typical sweet corn-like flavour giving basmathi its distinctive aroma and taste.
Due to this inherent feature, basmathi rice is also know as "the Fragrant One" or the "Prince of Rice".
In order for the basmathi grains to obtain their unique flavour, they have to be aged for long periods of up to a year, though some premium brands aged theirs for much longer. Jasmine's basmathi rice brands are of the extra long, extra white variety. After cooking, the grains become elongated (normally twice the length), light, dry and fluffy; making it a delightful experience for each meal.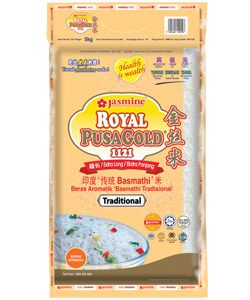 Royal PusaGold is high quality basmathi processed in the traditional Indian way. It is not steamed or parboiled. Due to its natural taste and aroma it appeals to the Asian palate and pairs well with their cuisines.
Pack Sizes: 5kg
Texture: Aromatic, soft & fluffy
Quality: Highest quality, super long basmathi
Usage: Restaurants, home cooking & special functions
Click here for nutrition facts