EXCELLENT RICE PRODUCTS FOR SUSHI
Calrose rice originates from a variety that was popularly grown and consumed in the 1950s in California, USA. From there it grew in acceptance by growers, marketers and consumers to become a prominent variety. It is a medium-length grain with unique starchy qualities that were soon noticed and adopted by the Japanese for their famous sushi recipes.
Nishiki, Akita Komachi, Calfresh and Sushi Rice are other Calrose varieties imported from USA. These brands cater to consumers who look for value, who appreciate the savoury taste of this variety of rice that has carved for itself a following.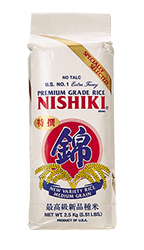 Nishiki USA
Nishiki is a very high quality Calroce rice variety that caters for high-end restaurants and discerning consumers who appreciate its inherent taste and flavour. It is imported from California, USA.
Pack size: 2.5kg
Texture: Starchy and soft
Quality: Very high quality variety
Usage: Suitable for home meals, restaurants and sushi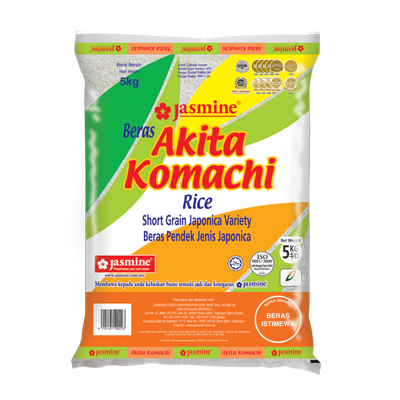 Jasmine Akita Komachi USA
Pack Sizes: 2kg and 5kg
Texture: Starchy and soft
Quality: High quality variety
Usage: Suitable for home meals, restaurants and sushi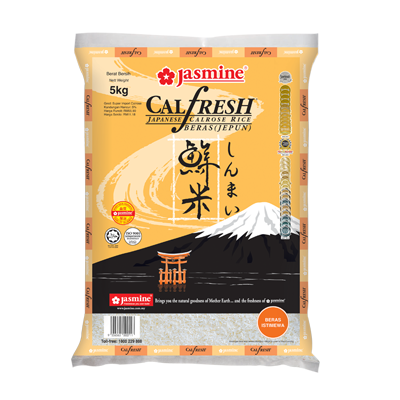 Jasmine Calfresh USA
Pack Sizes: 5kg
Texture: Starchy and soft
Quality: High quality variety
Usage: Suitable for home meals, restaurants and sushi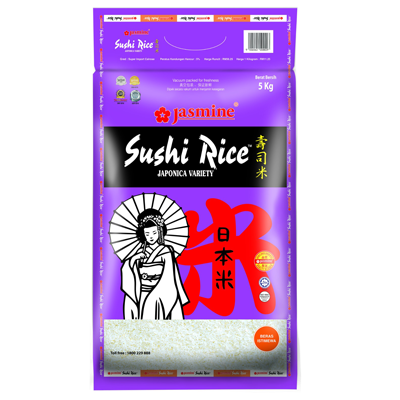 Jasmine Sushi Rice
Pack Sizes: 5kg 
Texture: Starchy and soft
Quality: High quality variety
Usage: Suitable for home meals, restaurants and sushi