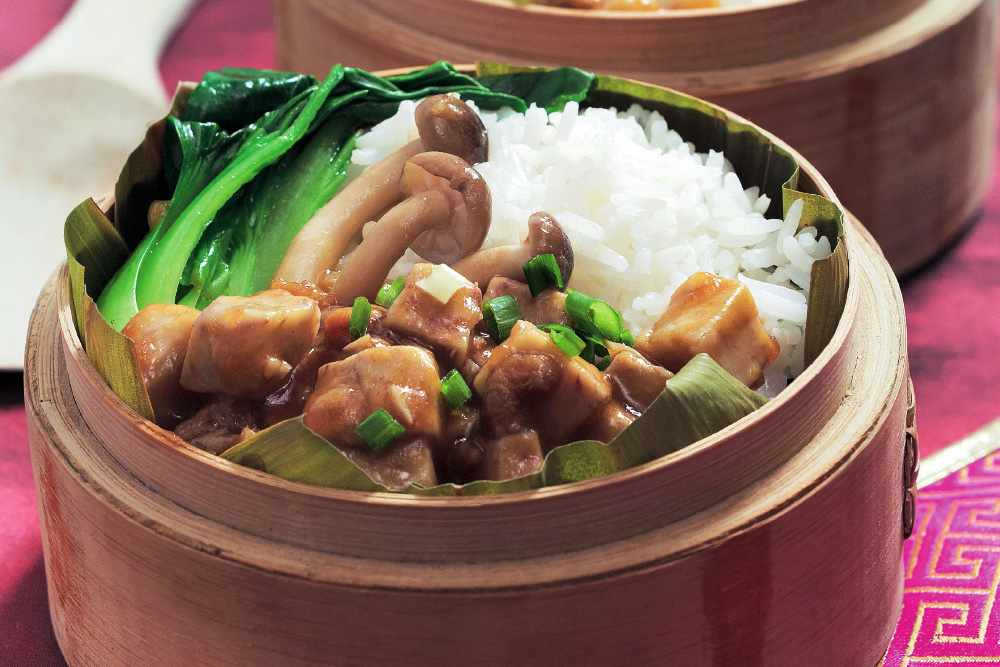 What You'll Need
A:2 cups Jasmine AAA Special Fragrant Rice, 2 1⁄2 cups water, 1 tsp salt, 100g Xiao Bai Cai
B:250g yam (peeled & diced), 2 tbsp chopped garlic, 30g dried shrimp, 150g Shemeji mushroom
Seasoning ingredients
1 tsp chicken powder, 1 tbsp oyster sauce, 1 tbsp soy sauce, 1⁄2 tsp pepper, 1 tsp sesame oil
A:Jasmine新阳上等香米2杯、水21⁄2杯、盐1茶匙、小 白菜100克
B:芋头250克(去皮切丁)、蒜头茸2汤匙、虾米30 克、柳松菇150克
调味料
鸡精粉1茶匙、蚝油1汤匙、生抽1汤匙、胡椒粉1⁄2茶匙、麻油1茶匙
Here's How
1.Wash Jasmine AAA Special Fragrant Rice and boil with water and salt until cooked.
2.Heat 3 tbsp oil in wok, sauté garlic, dried shrimp and yam until fragrant.
3.Toss in seasoning and Shemeji mushroom, add some water and stir-fry until well mixed, dish out and place on top of rice.
4.Arrange blanched Xiao Bai Cai around the rice to serve.
1.将Jasmine新阳上等香米洗净沥干,注入水及盐煮 熟成香饭。
2.烧热3汤匙油爆香蒜头茸、虾米和芋头丁至香酥。
3.加入调味料及柳松菇炒香,并洒入适量水兜匀,然后盛入香饭上。
4.小白菜烫熟后围入边便可。