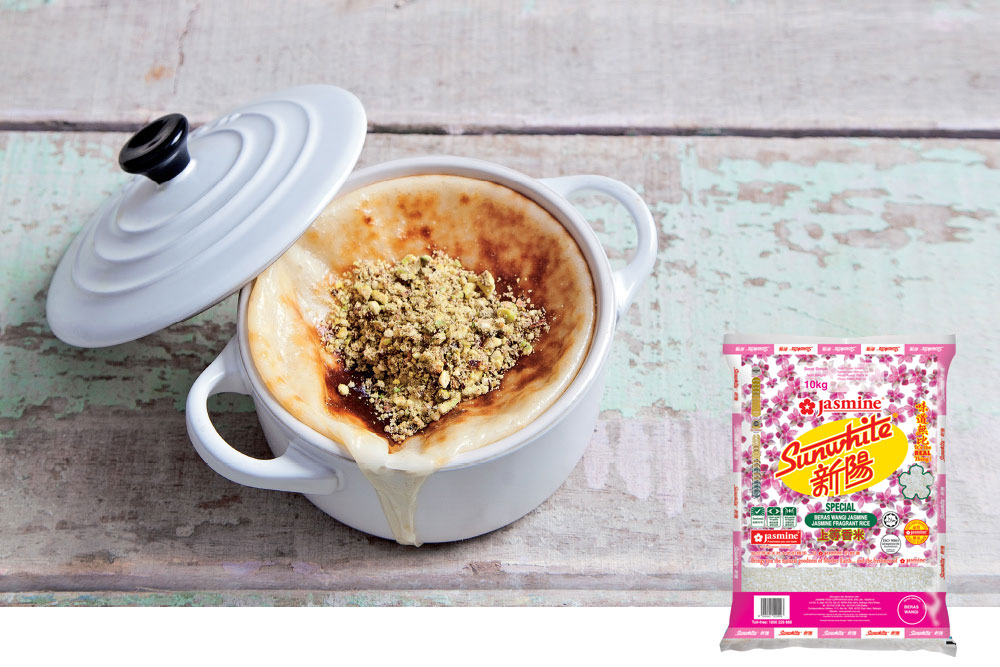 TURKISH BAKED RICE PUDDING
Time: 60 minutes | Portion: for 2 people
What You'll Need / Bahan-Bahan
Ingredients
1 litre milk
½ cup Sunwhite rice
1 cup white sugar
¼ cup cornflour
2 tbsp rose water
---
Bahan-Bahan
1 liter susu
½ cawan beras Sunwhite
1 cawan gula
¼ cawan tepung jagung atau kanji jagung
2 sudu besar air ros
Here's How / Cara-Cara
Method
Wash Sunwhite rice and boil with 2 cups of water until well soaked.
Put rice, milk, and sugar in a pot and stir over low heat. Keep stirring for 20 to 30 minutes after mixture starts boiling.
Mix cornflour with a little bit of water until smooth, and add this mixture to the pot. Stir for 4 to 5 minutes.
For regular rice pudding, pour pudding into bowls and serve cold with cinnamon sprinkled on top. For baked rice pudding, place pudding in oven-safe bowls, and then broil them until the top is dark brown. Chill and serve.
Alternatively, mix 2 tablespoons of pudding with one egg yolk, and spread this mix lightly and evenly onto the pudding after pouring them into bowls.
---

Cara Penyediaan
Cuci beras Sunwhite dan didih beras dengan 2 cawan air sehingga air meresap ke dalam beras.
Masukkkan nasi putih Super5, susu dan gula ke dalam periuk dan kacau perlahan. Teruskan kacau selama 20-30 minit lagi selepas mula mendidih.
Campurkan kanji jagung dengan sedikit air sehingga campuran sebati. Kemudian, masukkan campuran ini ke dalam periuk. Kacau selama 4-5 minit.
Sekarang, anda boleh memilih untuk membuat sütlaç biasa atau yang dibakar. Jika anda mahu puding nasi yang biasa, tuangkan puding ke dalam mangkuk dan hidang bersama serbuk kayu manis yang ditabur di atas. Jika anda mahu puding nasi yang dibakar, pilih mangkuk tahan ketuhar, tuang puding ke dalam dan panggang sehingga permukaan menjadi perang. Sejukkan dan hidang.
Satu lagi cara untuk membuat puding nasi bakar adalah dengan mencampur 2 sudu besar puding (selepas api ditutup) dengan sebiji telur kuning dan ratakan campuran sehingga sekata di atas puding selepas menuang puding ke dalam mangkuk. Jika sütlaç dibakar dengan campuran telur di atas, puding yang terhasil adalah lebih berperisa.
Download Recipe / Muat-turun Resipi
Jasmine Sunwhite Rice
Sunwhite rice is the purest, highest quality fragrant rice grown and exported to all corners of the globe. Harvesting is only carried out once a year between October and March. Jasmine markets a range of fragrant rice to meet the daily energy and health needs of the populace.
Recipe by www.butterkicap.com, in collaboration with www.herworld.com.my