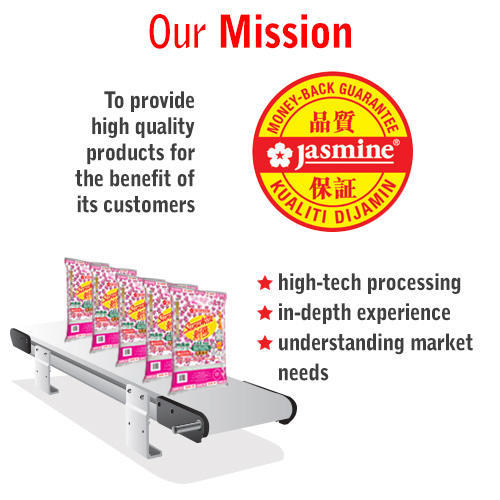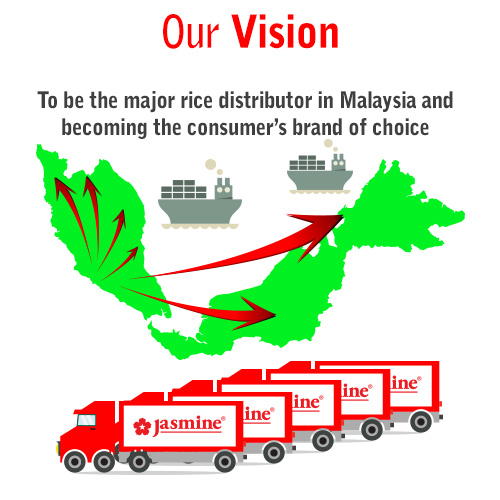 As a major marketer that provides quality, safe and hygienic products to consumers, Jasmine's vision is to be a major distributor of rice in Peninsular Malaysia. Becoming the brand of choice has helped it achieve part of this aim.
The mission of Jasmine Food has been to provide high quality products for the benefit of its customers. This is achieved through the employment of high technology in processing, in-depth experience and through a thorough understanding of the needs and demands of the market in the country. The Jasmine name stands as a brand that is trusted and recognized for its commitment to high standards. Its comprehensive product range and quality continue to appeal to the needs and expectations of Malaysian consumers.
Its white, fragrant, basmathi, calrose, glutinous and health rice range offer the widest product choices for every sector of the population. Leading flagship brands under the Jasmine umbrella have over the years endeared themselves to the various consumer segments with their quality and appeal.
To further garner the trust and confidence of consumers, Jasmine is the first and only rice brand to offer a Money Back Guarantee for its products. Jasmine's Money Back Guarantee makes it easy for consumers to decide on their choice of rice. If they are not satisfied with their purchase, the Money Back Guarantee provides the avenue for them to either get a refund or a replacement. Jasmine's Money Back Guarantee is based on the premise of quality. Consumers are therefore assured of the quality of Jasmine's products with this promise.