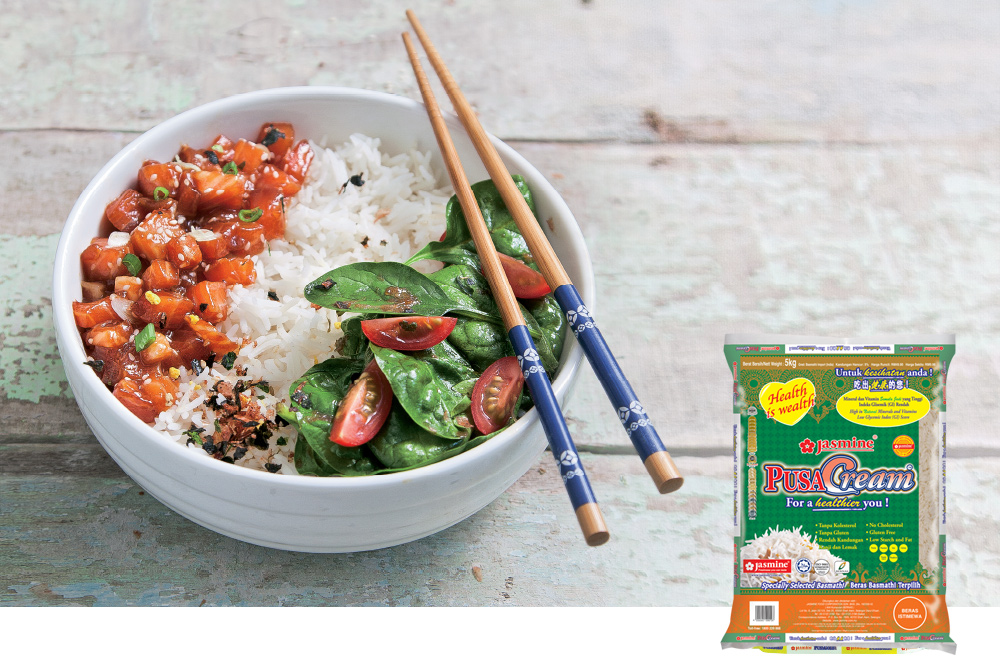 HAWAIIAN AHI POKE
Time: 30 minutes | Portion: for 4 people
What You'll Need / Bahan-Bahan
Ingredients
2 cups PusaCream rice
4 tbsp furikake
200g baby spinach leaves
6 cherry tomatoes
20ml shoyu sauce
10ml sesame oil
½ yellow onion
¼ cup grain vinegar
1 cup olive oil
1 spring onion
3g sesame seeds
5ml honey
340g salmon
Salt, to taste
Extra soya sauce, for dressing
---
Bahan-Bahan
2 cawan beras PusaCream
4 sudu besar furikake
200g daun bayam
6 tomato ceri
20ml sos kicap shoyu
10ml minyak bijan
½ bawang besar
¼ cawan cuka beras
1 cawan minyak zaitun
Daun bawang
3g bijan
5ml madu
340g ikan salmon
Garam untuk perasa
Sedikit kicap untuk hiasan hidangan
Here's How / Cara-Cara
Method
Make a batch of steamed PusaCream rice with salt.
Make salad dressing by grating onion. Add olive oil, shoyu, grain vinegar.
Quarter cherry tomatoes and add to spinach leaves with salad dressing. Toss to combine. For poke, dice salmon. Add shoyu, sesame oil, salt and mix well.
Before serving, add sesame seeds and spring onion.
In a bowl, top rice on one side with salad and on the other side with salmon poke. In between, top rice with furikake.
---

Cara Penyediaan
Kukuskan beras PusaCream bersama garam.
Hasilkan sos salad dengan bawang yang diparut. Tambahkan minyak zaitun, shoyu dan cuka beras.
Tomato ceri dibelah empat dan tambahkan ke dalam daun bayam bersama dressing salad itu tadi. Gaulkan sebati.
Salmon dipotong dadu. Tambahkan shoyu, minyak bijan, garam. Gaulkan.
Tambahkan taburan bijan dan daun bawang sebelum dihidang.
Untuk menghidangkan, letakkan Nasi PusaCream ke dalam mangkuk. Kemudian letakkan salad di sebelah bahagian atasnya dan sebelah bahagian lagi letakkan poke salmon. Di tengah-tengahnya, letakkan furikake.
Download Recipe / Muat-turun Resipi
Jasmine PusaCream
Basmathi PusaCream Jasmine is grown in the fertile foothills of the Himalaya Punjab, India. The cool climate, clean glacier water, and the high mineral content of the soil produce highly distinguished crops.
Recipe by www.butterkicap.com, in collaboration with www.herworld.com.my