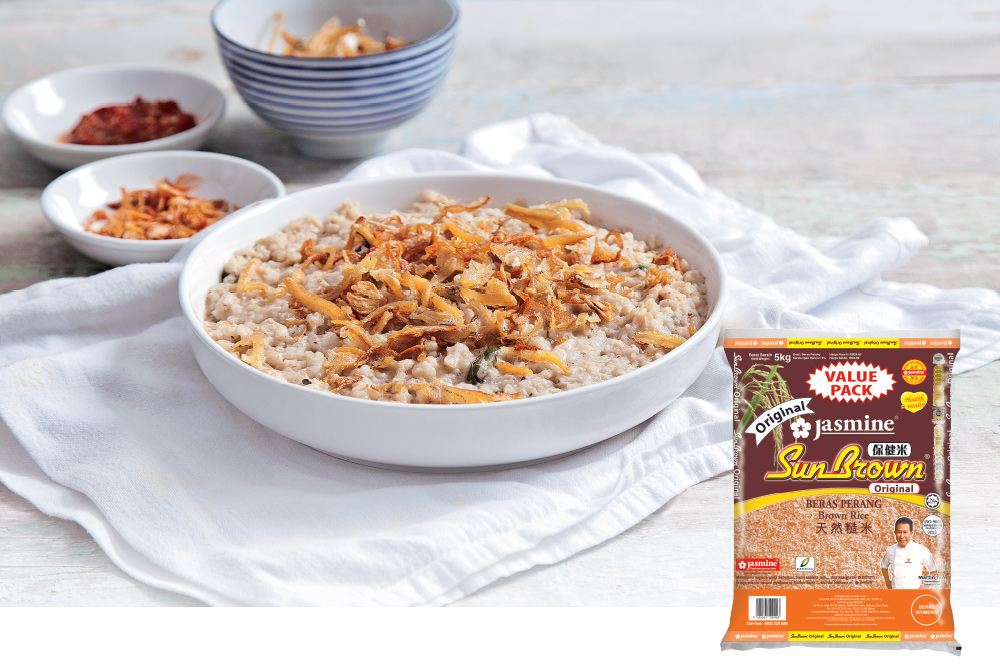 BUBUR LAMBUK
Time: 90 minutes | Portion: for 10 people
What You'll Need / Bahan-Bahan
Ingredients for the porridge
4 cups SunBrown rice
Choice of leaves, shredded *Essential: 3 sprigs Thai basil leaves and 2 young tumeric leaves
3 cups coconut milk
500g shrimps, shelled
2 ½ tbsp salt
1 cup cooking oil
1 tbsp ghee
20 shallots, peeled and finely sliced
2 cloves garlic, peeled and finely sliced
Fried anchovies, to garnish
Grind to a fine paste
200g of dried shrimps, soaked until soft
2 tablespoons of black pepper
2 large onions, peeled and cut into wedges
1 clove of garlic, peeled and chopped
10cm ginger, peeled and chopped
Garnish
200g of dried anchovies, fried crisp and finely pounded
Pound coarsely for the sambal
7 red chillies, coarsely chopped
5 red bird's eye chillies, halved
5 shallots, peeled and sliced
2cm shrimp paste, roasted
---
Bahan-Bahan untuk bubur
4 cawan beras SunBrown
Sayuran hijau pilihan, dicuci dan dikoyak dengan tangan (penting: 3 batang daun selasih Thai, tangkai dibuang; 2 helai daun kunyit muda yang dimayang)
3 cawan santan
500g udang, dibuang kulit
21/2 sudu besar garam
1 cawan minyak masak
1 sudu besar minyak sapi
20 biji bawang merah, dibuang kulit dan dihiris halus
2 ulas bawang putih, dibuang kulit dan dihiris halus
Ikan bilis goreng
Kisar sehingga menjadi pes halus
200g udang kering, rendam sehingga lembut
2 sudu besar lada hitam
2 biji bawang besar, dibuang kulit dan dibelah empat
1 ulas bawang putih, dibuang kulit dan dipotong.
10sm halia, dibuang kulit dan dipotong.
Hiasan
200g ikan bilis kering, digoreng sehingga ranggup dan ditumbuk halus
Ditumbuk kasar untuk pes cili (sambal)
7 biji cili merah dipotong kasar
5 biji cili padi dipotong separuh
5 biji bawang merah, dibuang kulit dan dihiris
2sm belacan, dipanggang
Here's How / Cara-Cara
Method
Boil rice with water and spice paste to make porridge.
Add shredded leaves of your choice and boil until cooked.
Gently stir in more shredded leaves, coconut milk, and shrimp and salt to taste.
Fry shallots and garlic separately, with ghee and cooking oil, until brown. Pour half of the fried shallots and garlic with oil into porridge, and set aside the rest.
Serve garnished with anchovies, the remaining shallots and garlic, and sambal on the side.
---

Cara Penyediaan Nasi Ulam
Dalam satu periuk air, masukkan beras SunBrown dan pes rempah dan didih sehingga beras masak menjadi bubur.
Masukkan sedikit sayur pilihan dan biarkan mendidih sehingga sayur masak.
Kacau perlahan-lahan sayur tambahan, masukkan santan dan udang. Tambahkan garam secukup rasa.
Dalam kuali, panaskan minyak dan minyak sapi dan goreng bawang merah yang dihiris dan bawang putih secara berasingan sehingga menjadi perang.
Masukkan separuh bawang goreng bersama minyak masak ke dalam periuk bubur. Simpan bakinya untuk hiasan.
Untuk menghidang, hias dengan ikan bilis goreng. Hidangkan dengan baki bawang goreng dan sambal.
Download Recipe / Muat-turun Resipi
Jasmine Sunbrown
Brown rice is widely known to have a significantly higher amount of nutrients such as fibre, vitamin B, manganese, iron, selenium, phosphorus, potassium, and fatty acids.
Recipe by www.butterkicap.com, in collaboration with www.herworld.com.my