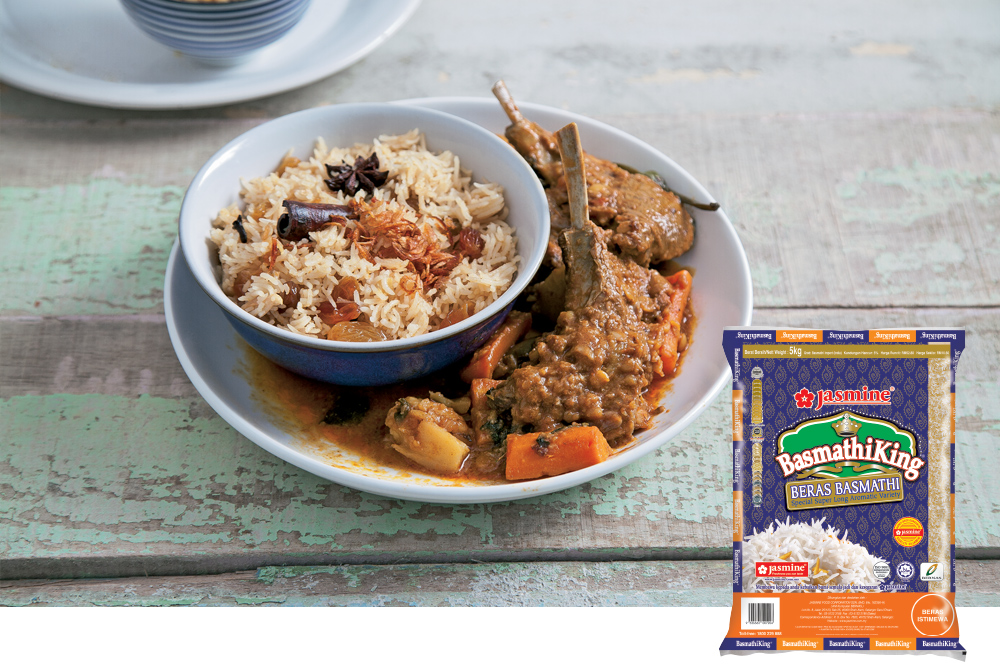 Dalca Lamb Chop with Nasi Minyak / Dalca Kambing dengan Nasi Minyak
What You'll Need
DALCA LAMB CHOPS (can be any meat or vegetables)
Ingredients
2 tbsp of ghee†
2 tbsp of cooking oil
1 kg lamb chops
5 potatoes, halved
3 tomatoes
3 carrots, cut into 1 cm chunks and halved length-wise
2 round and large brinjals, cut into 1 cm wedges
4 green chillies, whole
1 large bunch of mint leaves
2 cloves garlic
15g ginger
*Blend garlic and ginger to marinade
Coconut milk, from 1 whole coconut
5 shallots, sliced finely
2 large onions, sliced finely
1 cinnamon stick
6 cloves
5 cardamom pods
4 star anise
3 stalks curry leaves
1/2 cup boiled yellow split dhal (cleaned and soaked for an hour beforehand)
2 tbsp fish curry powder
Ω cup tamarind juice
Salt and sugar to taste
---
NASI MINYAK
Time: 90 minutes | Portion: for 6 people
Ingredients
5 tbsp ghee
2 cloves garlic, 5 shallots and
1 cm ginger, pounded together
3 knotted pandan leaves
1 cinammon stick
3 star anise
5 cardamom
5 cloves
1 cup chicken stock
1 cup evaporated milk
1 cup water
3 cups Basmathi King rice, washed and soaked in salt water for at least 1 hour
1 stalk parsley
1 tbsp yogurt
Salt and sugar, to taste
Here's How
Cooking Method for Dalca Lamb Chop
Heat ghee and oil in a pot. Once hot, add curry leaves and whole spices until crackling, then add the sliced onions. Fry until caramelised at the edges. Add lamb chops, stir and leave for 15 minutes.
Add potatoes, carrots, and tomatoes.
Boil until potatoes and lamb chops are tender.
Add fish curry powder (saute separately in oil first with 1 sliced shallot). Add 1 teaspoon of salt to season.
Add Ω cup of tamarind juice. Leave to boil for 10 minutes.
Add coconut milk. Boil for 10 minutes.
Add dhal a little at a time until a nice flowing consistency.
Garnish with mint leaves. Serve.
Cooking Method for Nasi Minyak
Heat ghee. Fry pandan leaves, whole spices, and shallot mix until caramelised at edges.
Fry drained rice until all coated in ghee (about 5 minutes).
Put into a rice cooker. Stir through yogurt. Add in 2 cups of chicken stock, 1 cup of evaporated milk, and 1 cup of water. Season with sugar and salt to taste. Cook as usual according to rice cooker instructions.