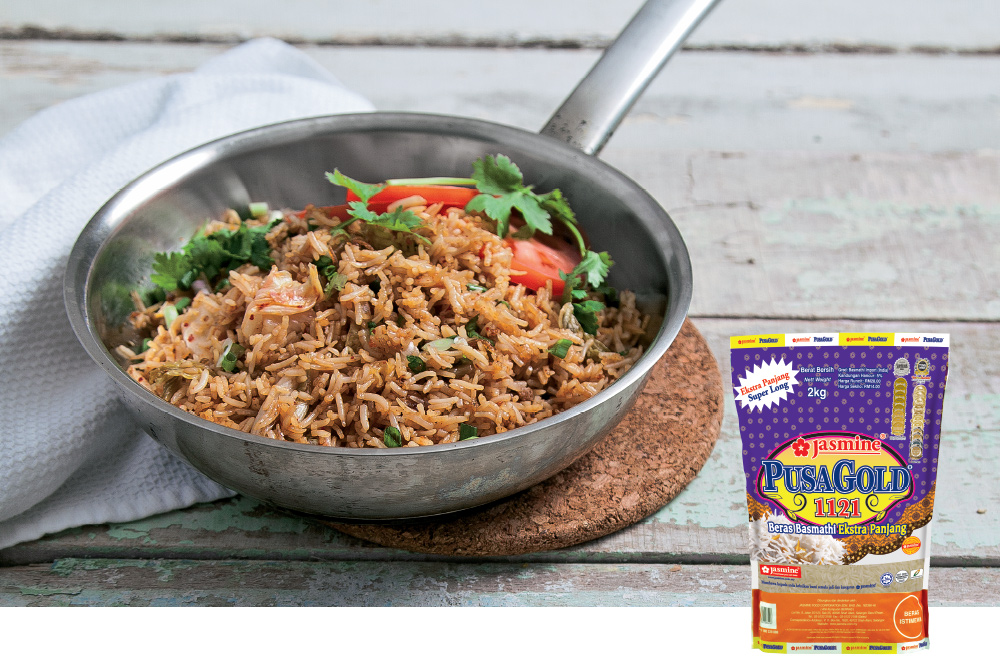 KIMCHI FRIED RICE
Time: 40 minutes | Portion: for 6 people
What You'll Need / Bahan-Bahan
Ingredients
3 tbsp cooking oil
1 yellow onion, diced
300g minced beef/corned beef
100g kimchi, juice set aside
3 cups PusaGold cooked rice, refrigerated overnight
½ tbsp soya sauce, to taste
1 tsp sesame oil, to taste
½ tbsp oyster sauce, to taste
3 spring onions, thinly sliced, extra to garnish
Fried shallots, to garnish
---
Bahan-Bahan
3 sudu besar minyak masak
1 bawang besar, dipotong dadu
300g daging cincang/ daging yang telah siap didihkan
100g kimchi, ketepikan airnya
3 cawan beras PusaGold yang telah dimasak, disimpan di dalam peti sejuk semalaman
½ sudu besar kicap, untuk perasa
1 sudu besar minyak bijan, untuk perasa
1/2 sudu besar sos tiram, untuk perasa
3 helai daun bawang, dihiris nipis, sebagai hiasan
Here's How / Cara-Cara
Method
In a wok, heat oil and sauté onions for 1 to 2 minutes until soft.
Add meat and continue cooking while stirring to break it up into small pieces. Cook until browned.
Add kimchi, without juice, and sauté lightly for 1 minute.
Add soya sauce, oyster sauce, kimchi juice, and cooked rice. Fry on high heat until well combined and rice is slightly charred.
Turn off heat and while wok is hot, add spring onions and sesame oil to rice. Mix well.
To serve, garnish with spring onions and fried shallots.
Tip: add a fried egg for more flavour.
---

Cara Penyediaan
Di dalam kuali, panaskan minyak dan tumis bawang selama 1-2 minit sehingga lembut.
Masukkan daging dan masak sambil mengacau bagi meleraikan daging sehingga menjadi cebisan-cebisan kecil. Masak sehingga menjadi perang.
Masukkan kimchi tanpa airnya dan tumis seketika selama 1 minit.
Masukkan kicap, sos tiram, air kimchi dan nasi. Goreng menggunakan haba tinggi sehingga betul-betul sebati dan nasi sedikit keperangan.
Tutup api dan ketika kuali masih panas, tambahkan daun bawang dan minyak minyak ke atas nasi. Gaul rata.
Untuk hidangan, hiaskan dengan daun bawang dan bawang goreng.
Tip : Boleh juga ditambah telur goreng untuk melengkapkan hidangan ini mengikut kesukaan.
Download Recipe / Muat-turun Resipi
Jasmine PusaGold
This premium rice is not only high in quality, it also contains vitamins B1, B2, and B3. These are key components your body needs to ensure optimum use of carbohydrates and to maintain a healthy nervous system.

Recipe by www.butterkicap.com, in collaboration with www.herworld.com.my